I'm ecstatic to have one of my favorite jewelry designers, Tracy Hanson (Junk Posse) create not one, but two Simply Love necklaces!!!!  They are stunning and girlie and perfect for spreading simply love with funky style!!  I'm soooo giddy, I'm throwing a Giveaway on my blog.  Leave me a comment and let me know what necklace you would pick and why you simply love it.  I will randomly select two bloggers and announce the winner on Valentine's Day, Tuesday 12/14!!  Email me if you are the blessed winners.
What do you win?
2 winners will receive a gift certificate to purchase one of the new Simply Love necklaces- you pick!!
Simply Love 1
Simply Love 2 – Front & Back
A little about

Junk Posse

Designer –
I am a Adoptive Mom & Grandma of 2 Amazing Guys and 2 Beautiful Bio Girls. I Love being Grandy to m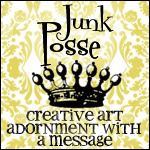 y three Grand-babys! I traveled last year to Ethiopia to bring home our Very Sweet Grandbaby that My Daughter and her family adopted.
I create each piece of my Jewelry one at a time by hand in my little studio in a small town in Colorado. My jewelry is my passion with a purpose and I am inspired by so many wonderful People that have the Heart and Desire to take the risk to Love the unloved, to make a difference and Be the change for Children.  Thank you all!  Tracy Hanson
Here's the crazy part, starting today, you can purchase your own Simply Love necklace and this will help the Gibson family (us) fund our adoption miracle.  Also, Junk Posse will also give each buyer that puts the words "Free Earrings" in when ordering a pair of Heart earrings.  We are praying 365 Days for His direction with our next adoption and this is such a blessing!